TREK | ELECTROPHYSIOLOGY SYSTEM
Invasive & Multi-Modal Neurophysiology System
Smaller. Smarter. Wireless.
Ripple's newest flagship processor, the Trek, is the commercial neural interface system. Designed for seamless stimulation and recording, the Trek puts hundreds of channels in the palm of your hand.
The essence of science is finding simple solutions to hard questions. At Ripple, we've done just that. With wireless data transmission, integrated battery, analog and digital I/O modules, and on-board processing, the Trek is the perfect solution to complex experiments that are designed to take on even the toughest questions.
Develop your own customized code for real-time, closed-loops applications using our software APIs for complete freedom over your experiments. Load your custom scripts directly onto the Trek processor by adding our module for even more versatility. Like all Grapevine processors, the Trek integrates with Ripple's Trellis software for data analytics and visualization, system configurations, and on-the-fly stimulation controls.
Enter the future of neural recording with the device meant to exceed your expectations and travel with you along the way.
Highlights
Power when you need it
Portability when you want it
Meets top safety standards (whether you want it or not)
** Recording and Stimulation Specifications are defined by the Grapevine Front End used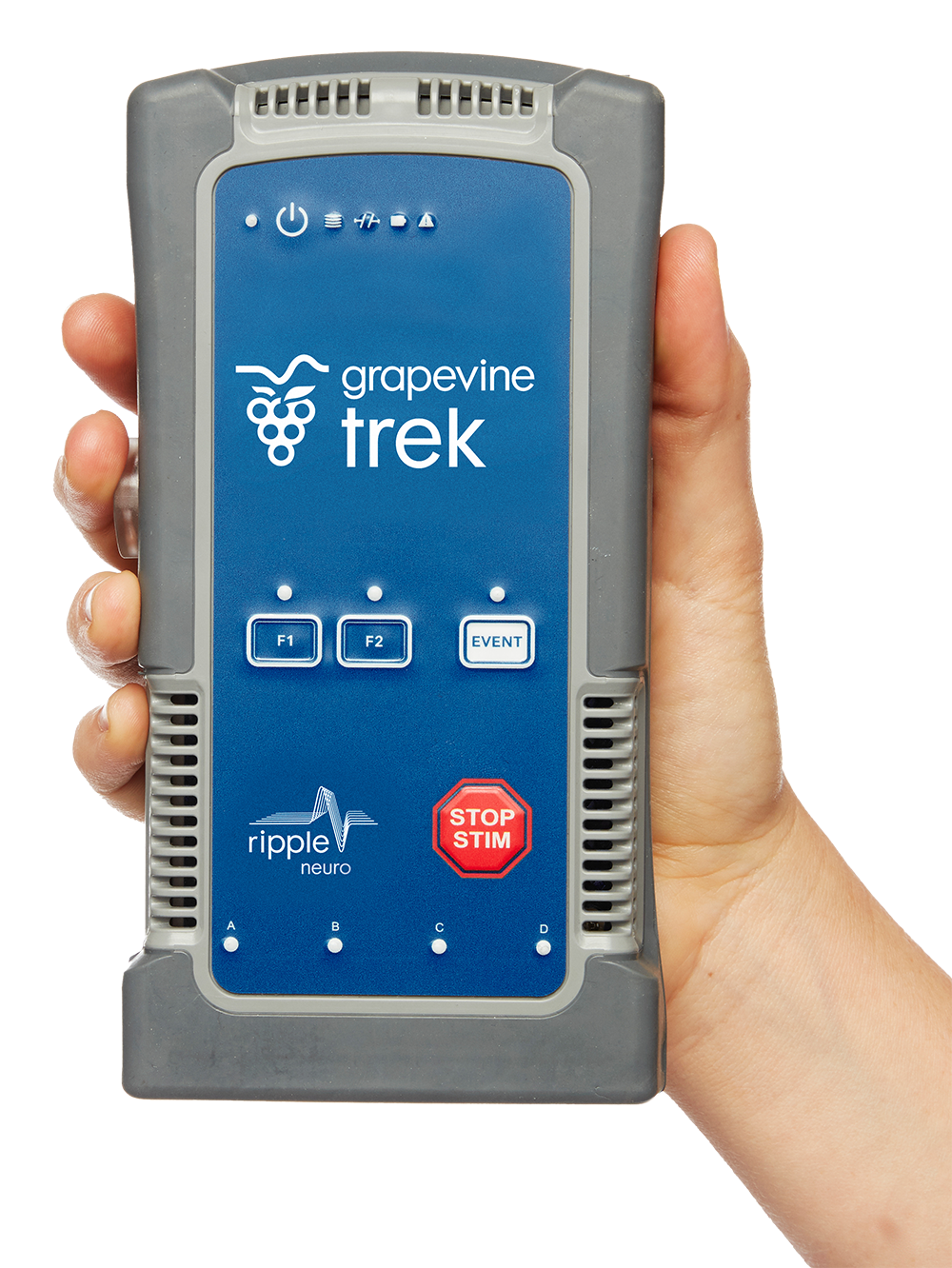 of recording per device (1024 total)
simultaneously on all channels
for single-unit recordings
Portable – 700 grams. Easily transport between hospitals or laboratories.
Versatile – dedicated front ends. simultaneous stimulation and recording for any experiment.
Wearable – wireless communications. integrated battery. on-board storage. pack it up and go.
Seamless Setup – set up and begin recording in minutes.
REAL-TIME, CLOSED-LOOP CONTROL – PROGRAMMATIC CONTROL. REAL-TIME FEEDBACK. MATLAB & PYTHON APIs
At merely 700 grams, the Summit provides a light weight and portable form factor that can easily be transported between hospitals or laboratories
Already used around the world and reported in high-impact, peer-reviewed journals, the Summit is designed to meet ISO 60601 safety standards for laboratory and clinical research